Hello biblios! And welcome to another "Cuppa with a Book Blogger", where we get to learn a little bit more about some of our favourite book bloggers (or meet a new book blogger friend along the way)!
My guest today is Caitie from Find me in Fairytales! I'm super excited to introduce her to you because I had the best time interviewing her and reading her answers. She really poured herself into this post and I feel like I know her so well already. Also, there were quite a few times when I wanted to shout: "OMG I totally get you, Caitie!!!" because it truly felt as if she was explaining my own thoughts and feelings.  Let's jump right in to learn more about this book blogger:
---
So, let's get the obvious question out of the way – who is Caitie? Tell us a bit about the book lover behind the blog.
Hello everyone! I'm a book obsessed, tea addicted, cat lover currently living in Ontario, Canada (yay for maple syrup and hockey)! I believe I'm a bit of a walking contradiction because I have an introverted heart with an extroverted mind; basically meaning that I'm a quiet observer that's listening intently, but my mind is always buzzing! If I'm not having a conversation in my head, I have some song lyrics stuck that I'm trying to get out! Cue Lady Gaga haha.
Besides all things bookish, I absolutely love fashion and art, especially if it's bold and colourful, but you will most likely see me dressed in leggings and a cardigan, comfort over style is my go-to!  I also love helping and supporting other people in their endeavours and following their dreams! Oh and I love food, like, a lot. Carbs are my soulmate! Give me some delicious cheesy pasta or a hearty hamburger with a side of poutine and I'm one happy girl! I do crave the occasional salad as well, gotta eat your greens!
Everyone has a story and I'm positive you do too. What inspired you to start blogging? And how did you come up with the name for your space?
Writing has always been something that I've loved. I think it has a lot to do with the fact that speaking has never been my strong point. You know how some people can just talk and talk forever and they are so good at leading a conversation? Yah, I'm definitely the opposite! I can awkwardly answer questions about myself, but I like having my thoughts planned out and organized before I speak, so that's where writing comes in.
Even in elementary school and all through my school years, writing essays was my favourite part! (yes I know, I was one of those weird kids that loved getting an essay assignment! Page length and word count were never an issue for me to accomplish). After I finished college in 2013 I started to get an itch to write for pleasure and would write occasionally here and there, but nothing consistent.
In February 2016 I randomly discovered Goodreads (my Holy Grail) and I also found my first dark fairytale retelling, which was Alice by Christina Henry. For quite a few months I was just reading these books for pleasure, and posting photos of the books in my regular Instagram, but then I discovered bookstagram. I started a separate account dedicated to just books.
It wasn't until the summer of 2016 that I couldn't hold in all my thoughts and opinions any longer! I wanted to start writing book reviews because I had been reading these books and I had so many thoughts about them but didn't have anyone to share my thoughts with! It's also a creative outlet for me to connect to other bloggers and bookstagrammers to help support each other!
My blog name came from my love of fairytales and is also the name of my bookstagram! Fun fact: I'm terrible at coming up with nicknames/usernames, I might as well just use my name and my favourite number, which is 13 by the way! But, as everyone knows, I'm obsessed with fairytales! My blog is centered on retellings and that is my genre of choice to read! I also wanted a name that had a good ring to it and could easily be used as a catch phrase or hashtag. I knew I wanted the word "Fairytales" to be incorporated, and it took me a bit to add on "Find me In"… but when I came up with it, it kind of just clicked in my head! Because where else are you going to look for a book lover? You can always find me in fairytales!
From one book blogger to another, I know how much time goes into crafting a post that you feel comfortable enough posting for the world to see. Looking back, what was your favourite post to write?
Hmm, unlike other bloggers, I don't have a ton of posts so far. I feel like "favourite" isn't the right word, but by far the hardest posts that I've written are A Monster Calls by Patrick Ness, Wintersong by S. Jae-Jones, and Hunted by Meagan Spooner. I suppose they are also some of my favourite books.
A Monster Calls was probably one of the hardest posts I have written because it's centred around death, grieving, and loss. Which in and of itself is such a tough subject, but it forced me to dig deep and understand some emotions that I had been holding onto for years.
Wintersong was also a story that really hit me and got into my soul. I suppose the essence of the story is about sacrifice. It's about loving someone, but letting them go because they will slowly die if they stay together. While I think it takes a lot of strength to hold on, I think sometimes it takes even more strength to let go.
Much like A Monster Calls and Wintersong, Hunted touched me and moved me deeply. But while A Monster Calls and Wintersong's story resonated with me, Hunted hit me like a brick wall and for the first time while reading about a character, I could say "that's me." Hunted was able to vocalize all the thoughts and feelings I have always had. It's almost like the author took how I felt about life and wrote a book about it. It blew me away so much that when I was done reading, I put the book down, and thought "wow…that just helped me understand myself more than any other book has ever done." It will always hold a special place in my heart!
So while I think "favourite" isn't the right word, these are the books that have changed me and made me really think about myself and my life.
Getting a lil personal; what is your biggest achievement to date? Is there a moment you are especially proud of when you look back on all you've accomplished so far?
I could say the typical answer of graduating college, or getting a job. But I feel my biggest achievement to date is my blog and my bookstagram. It's the first thing that I have started completely on my own where I had absolutely no clue what I was doing. I had never created and managed a blog before, or really anything else for that matter. In terms of bookstagram, I've never taken a photography course in my life, everything I have learned, I learned through other photos and research on google! This is one of the first things I have ever done in my life where I can see a slow, steady progression in my work. It gives me so much happiness and confidence that I can do this, and not only do this, but do it mostly on my own.
Do you have a bucket list stashed away somewhere with some daring (or more subdued) activities that you'd like to complete? Name 5 items on your list.
I sure do! It's funny, when I was in high school I had a bucket list with outrageous and not-attainable things that I wanted to do, like drive a race car. Thinking back, I hate dare devil things like that… I think I was just trying to come up with crazy ideas! My most recent bucket list is actually things I would enjoy doing and also things I could potentially accomplish! Here we go (in no particular order):
Attend another Lady Gaga concert and get pulled up on stage when she does acoustic "Born this way"! I would just pass out from sheer excitement!
Go to a BookCon, cosplay a mashup of Alice/Dorothy, and meet some of my fave authors like Danielle Paige, Christina Henry, and Victoria Schwab!
Go to an Ellen DeGeneres show just so I can dance in the audience with everyone else! She is so hilarious, I just love her!
Spend a couple hours in a huge bookstore and explore the shelves. Or just go around to all the gorgeous bookstores in the world!
Dress up and attend an "Alice in Wonderland" party and do a tea tasting of some sort!
Name one of your most cherished life experiences.
This one is too hard to boil down to just one because there are just so many! I think the one that stands out the most is when I moved from Vancouver, BC to Kingston, ON. I only knew family in Kingston and maybe one other person, but it was a chance for me to start over, or maybe not start over, but start with a new perspective on life. It catapulted my life in a positive direction and when I went to college, I really learned the meaning of success and that if you put in the time, effort, and hard work you see positive results (generally speaking, of course). I've learned a lot while living here and while I feel like I probably would have learned a lot if I didn't move here, I wouldn't trade the past 7 years of my life for anything. The people I've met, the experiences I've had, and who I've become is irreplaceable.
What's some of the best advice you've received and who was the wise human who shared this bit of wisdom with you?
Some of the best advice I have ever read is "no one else knows what they're doing either", and I love that because I think we, as humans, need to remember that we are all stumbling along together, just at different stages and experiences in life, but no one else knows what they are doing either. There's something comforting in knowing that we aren't alone in that regard.
Another piece of advice that's stuck with me is from my mom, which is kind of funny, because we don't often talk on a very personal level. But last summer she told me "your home and relationship should be a safe haven from everything else. The world is becoming a scary and unpredictable place; your home should never feel that way." And it's something that I've thought about almost every day.
The other one that I always keep in mind is:
"The people we surround ourselves with either raise or lower our standards. They help us become the-best-versions-of-ourselves or encourage us to become lesser-versions-of-ourselves. No one becomes great on their own, the people around them help make them great. We all need people in our lives that raise our standards, remind us of our essential purpose, and challenge us to become the-best-version-of-ourselves."
That one is pretty self-explanatory!
"HakunaMatata – it means no worries, for the rest of your days."Do you have a motto in life? If yes, let us know what it is.
"Start now. Start where you are. Start with fear. Start with pain. Start with doubt. Start with hands shaking. Start with voice trembling, but start. Start and don't stop. Start where you are, with what you have. Just…start."
I love it because it can be applied to so many different parts of your life and whatever stage you are in and I think people are so afraid of change, that this is a good motivator and reminder that it's ok to be doubtful and afraid, but you start by starting.
This comes from one of my best friends named Heather. It's not so much a life motto, but a question: "are you happy?". She asked me that last summer and it totally threw me, because no one asks each other questions like that and we certainly don't ask ourselves that! After thinking about it, that one simple question changed my life, and now thanks to her, I ask other people that question too.
And last, but not least, this one comes from my boyfriend, Evan. He used to tell me "Life is study", not sure if that is a quote from something or if he just made it up himself, but it basically means that you should be constantly learning. When you stop learning, you stop living. I couldn't agree more. Learning is so essential to life and much like a day without laugher is a day wasted, a day without learning is also a day wasted.
Let's talk books for a bit… How did reading become such a big part of your life?
Both my parents were in the education system while I grew up and they loved to read. They taught me to read at a young age and they would always read books to me and tell me stories.
Again I think this goes back to being introverted and not very good at speaking, so books were a way for me to communicate, and feel comfortable. As I've grown older, books aren't so much a learning tool for me anymore, but now they are a way for me to expand my imagination and travel to fantastical worlds. I just get so excited diving into a new book and I have a joke with myself that I wish everyone was as excited about life as I am when I read a good book!
What would you consider your "most reached for" genre? And is there any special reason for this preference?
Fairytale retellings and fantasy! The darker the better! I absolutely love dark, violent, scary stories, but ironically I can't stand scary TV shows/movies. Jump-scares are the bane of my existence but what I love about dark stories is that you have to slowly read into the suspense…it's the anticipation that just gets me!
I have always loved fairytales and fantasy! Especially Disney versions growing up. But as I've gotten older, I prefer the darker side, I think it makes fairytales more interesting and real. Or as close to real as they can be!
On the other side of the spectrum, what genre do you hardly reach for and why?
Contemporary and romance! I guess I should clarify that I don't mind romance in my fairytale/fantasy stories, as long as it's not insta-love! I guess I just prefer not reading books that are more "real-world" because I want to go to alternate realms with magical creatures.
As a major book nerd, I know how overwhelming– or let's just call it IRRITATING – it can be when someone asks you what your favourite book is because there's never a black 'n white answer. So here's my question: What is your ideal ending for a book?
This is such a good question!!
My ideal ending for a book would be one that makes you really think and re-evaluate things in your life. I used to be one of those people that had to have the ending wrapped up nicely with a pretty bow, but I have since realized that not all stories end that way (real life or not). While I do love a good happy ending where everything works out with butterflies and sunshine, it doesn't really make you think and it doesn't linger very long. It's kind of like an ice cream cone—here's something sweet that melts in 5 minutes (that's an Elizabethtown movie quote), and I do love a good ice cream cone every now and again, but I would take a dense hearty burger and fries, so when you lick your lips later you can still taste the salt and sauce (can you tell I'm really hungry?! Haha) !
But getting back on track, an ending that is more real than anything else. If there is no way a story can have a seemingly happy ending, it shouldn't turn out that way just to please the reader. It should be true to the character's, their world, and the story!
What are some of your most cherished quotes from books?
"There's no such thing as living happily ever after–there's only living. We make the choice to do it happily." – Hunted by Meagan Spooner

"Wild birds die in cages…" – The Bear and the Nightingale by Katherine Arden

"Because humans are complicated beasts, the monster said. How can a queen be both a good witch and a bad witch?  How can a prince be a murderer and a saviour? How can an apothecary be evil-tempered but right-thinking? How can a person be wrong-thinking but good hearted? How can invisible men make themselves more lonely by being seen?

The answer is that it does not matter what you think, the monster said, because your mind will contradict itself a hundred times each day. Your mind will believe comforting lies while also knowing the painful truths that make those lies necessary. And your mind will punish you for believing both.You do not write your life with words. You write it with actions. What you think is not important. It is only important what you do." – A Monster Calls by Patrick Ness

"You've always had the power my dear, you just had to learn it for yourself." -Wizard of Oz by L. Frank Baum

"If you don't know where you're going, any road will take you there." -Alice in Wonderland by Lewis Carroll
What bookish franchise do you tend to fan and fawn over most?
I typically don't read a lot of huge franchises, I tend to gravitate towards stand alone's or duologies. But I would say Dorothy Must Die series by Danielle Paige was amazing! And of course anything Alice in Wonderland!
If you're anything like me then you'll have a long list of bookish pet peeves. Can you name one of your biggest bookish pet peeves?
By far it has to be book snobs! I understand and respect that everyone has their likes and dislikes towards books, but I just can't stand people who put down other people for their book choices. You know the types, the ones that say "Oh you like THAT book?!" or "Why do you like that, it was awful!!". Now I guess we all have our strong opinions and I will fully own up that I have probably said that to people in the past, but I'm more aware of it now, so I don't do it anymore. Also the type of book snobs that are all about the classics or "the most read books" that everyone is supposed to read to make them true book lovers. I can say that I've never read much classic literature and I've only read the first 4 Harry Potter books. I do completely understand that classic literature is classic for a reason and Harry Potter is on "the most read books" for a reason, but I'm not going to read a book just because everyone else is, and I don't feel that makes me any less of a book lover!
I think one of the biggest problems us bookish folk face is our never ending TBR pile that gets longer and longer no matter how many books we tick off as 'read'. What book has been on your TBR the longest?
Ohhh the infamous TBR list that seems to resemble one of those clown cars that just has clown after clown emerging with no possible way that they could all fit! I almost feel like I owe an apology to everyone that I have said "I will add that to my TBR list!" because in my head I think "I have to live another 5,000 years for me to read all these!" To be honest, I don't have an official list, I just add books to my goodreads as I find them. Boring answer, I know! But I suppose if I will be honest, it's confession time: I've never read The Wizard of Oz and I've only read bits and pieces of Alice in Wonderland… I know I know, they are my two favourite stories, but how have I never read the originals?! I couldn't tell ya, I loved the movies when I was little and my love and obsession just grew from there. Maybe one day I will get around to reading the originals!
Fire Questions
Stressed Reader or Relaxed Reader?
Relaxed reader
Favourite Subject in school?
English
Quiet night in or a night out on the town?
Depends on my mood
Paperback or EBook?
Paperback for sure!
Pretty dress or jeans and T-shirt?
Pretty dress
What advice do you have for anyone who would like to get into blogging?
My advice is similar to one of my life mottos: just start. If you want to do it, start by researching blogs, get someone to help you if you need it, but just start and do it for yourself. Have someone sit down and help edit/organize your blog with you or have someone read over your posts before you post them.  If you're worried about not being "good enough" or "creative enough" or "whatever enough", just remember that everyone starts somewhere, it's just a difference of who actually starts vs. who doesn't. It's all a learning experience and process, and you can only get better with time and practice! Like everything else in life, you will definitely hit writers block and creative stand stills, probably more often than you would like. I can't begin to say the number of times I have looked at other bookstagrams/blogs and thought "these are so gorgeous and professional looking, what the heck am I doing?!"But I have also learned that everything that's worth doing comes with struggles worth withstanding; mistakes and failures included!
So to end these questions I would like to close out with a quote to anyone who is apprehensive about starting your own blog (or anything else in life for that matter):
"Don't be afraid to fail. Be afraid not to try" – (I have no clue who said that haha, but I love it!)
Plus, I'm a strong believer that your passion and hard work will show through if you truly love something, and those things will take you farther than anything else.
---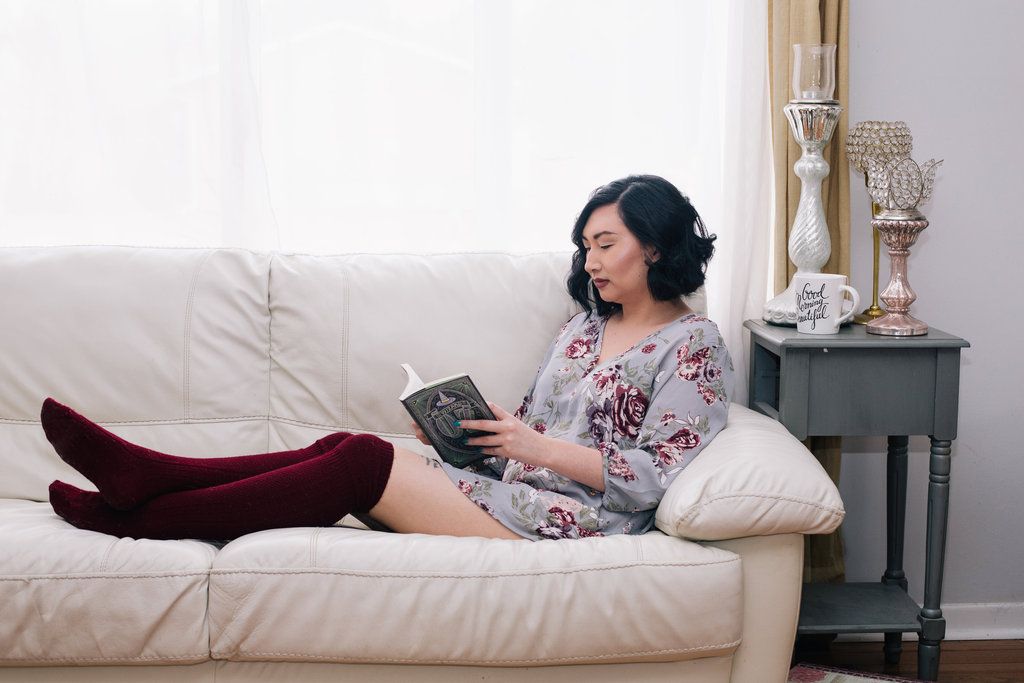 About the blog: Fairytale and fantasy book reviews.
Blog | Find me in Fairytales
Goodreads | Caitie (Find Me In Fairytales)
Instagram | @find.me.in.fairytales
Facebook | @findmeinfairytales
---
Thanks so much to Caitie for taking the time out of her busy schedule to answer these questions. I hope you'll go ahead and check out her blog and that you've made a new book blogging friend!
If you would like to have me feature your blog on A Cuppa with a Book Blogger, please drop me an email so we can talk more. Don't forget to come back next week Monday to meet another Book Blogger Friend!