Good day, fellow biblios! And welcome to another "Cuppa with a Book Blogger", where we get to learn a little bit more about some of our favourite book bloggers (or meet a new book blogger friend along the way)!
The incredible thing about the internet is that we get to meet people from all walks of life. And the wonderful thing about the online bookish community is that everyone is super friendly and always up for a chat about their favourite thing – books. My guest today is Liliana from Liliana N Bookish! A Vietnamese-Russian-English translator who loves reading Russian classics – something I can't say I've ever done on my reading journey; but have a sneaky feeling that's about to change…
---
So, let's get the obvious question out of the way – who is Liliana? Tell us a bit about the book lover behind the blog.
Hi! So Liliana (a.k.a. silly me) is officially a Vietnamese-Russian-English translator, unofficially a bookworm, book blogger, bookstagrammer – whatever title containing the word "book". 😀 I was born and raised in Russia to fully Vietnamese parents, thus making me a Vietnamese-born in Russia with Vietnamese citizenship in possession. Currently, I'm living and working in the southern part of Vietnam, and whenever I get the chance and money, I go hunt books.
Everyone has a story and I'm positive you do too. What inspired you to start blogging? And how did you come up with the name for your space?
I've been generally blogging for almost 10 years, but I never considered blogging as something I do FOR public up until the end of this February, when I started my book blog. It's been a long journey of finding the niche I wanted to stay with and be assured that I will rarely run out of ideas, so finally I turned my face to something I've always loved but never considered as something I could be ranting about. That's how my bookstagram and blog started.
The current name of my space is very simple: Liliana N is my name with the first letter of my last name (Nguyen if you're interested), and Bookish was picked for stating the niche of my blog.
From one book blogger to another, I know how much time goes into crafting a post that you feel comfortable enough posting for the world to see. Looking back, what was your favourite post to write? (
Everything that goes under my segment called Do The Talking: Russian books, and basically every post related to Russian books. As you can see, not many book bloggers and bookstagrammers talk about Russian books, maybe aside infamous works by Lev Tolstoy (but even that is rare), so I thought I could contribute a little bit by introducing and recommending Russian books for the international audience. As an avid Russian classics lover, I'm always willing to recommend any Russian classic book to anyone interested!
Also, I have lots of fun writing ironic discussions under the same segment, such as Struggles of an international book blogger (link – https://liliananbookish.wordpress.com/2017/03/24/do-the-talking-struggles-of-an-intl-bookblogger/), How to deal with a book hangover (link – https://liliananbookish.wordpress.com/2017/04/01/do-the-talking-how-to-deal-with-a-book-hangover/), etc.
Getting a lil personal; what is your biggest achievement to date? Is there a moment you are especially proud of when you look back on all you've accomplished so far?
Oh, that is a hard question, because I think I'm yet to have those big achievements. But I'm pretty proud of having a stable job for almost 4 years already, doing stuff I'm the best at for my living, which is translation. But I hope that within this year I will achieve something pretty big and related to books. Shhhhh, better not jinx that!
Do you have a bucket list stashed away somewhere with some daring (or more subdued) activities that you'd like to complete? Name 5 items on your list.
1) Traveling Europe (my long-term dream); 2) Finding a perfect city/country in Europe for living; 3) Immigrate to that country? 4) Learn more languages (in progress with Korean now); 5) Write a book!
Name one of your most cherished life experiences.
That would be my last trip to Singapore earlier this February, for Yiruma's concert. It was an incredible experience as I listened to my favourite musician LIVE with my own ears.
What's some of the best advice you've received and who was the wise human who shared this bit of wisdom with you?
It was my dad last year. He said: "Remember that whatever you do in your life, you do it for yourself. Not for me, not for mom, not for anyone else. Don't do anything you don't like just because someone else said."
"Hakuna Matata – it means no worries, for the rest of your days." Do you have a motto in life? If yes, let us know what it is.
No, I don't have a motto in life.
Let's talk books for a bit… How did reading become such a big part of your life?
I started reading ever since I was little. And probably at the age of 8 or 9 I subconsciously kept picking up one book after another to absorb. Approximately, at the same time Harry Potter series started its journey to our hearts (with Russians being a little bit behind on schedule, but that never bothered me that time), and so the book series defined my ultimate love for books.
What would you consider your "most reached for" genre? And is there any special reason for this preference?
If you look at my bookshelf, the pattern is pretty much visible: it's mainly Russian classics, and fantasy books. Russian classics were with me throughout my whole childhood and school years, while fantasy was a choice I made upon becoming a Potterhead, and I always fancied magic and wanted worlds I could escape to from reality.
On the other side of the spectrum, what genre do you hardly reach for and why?
Anything horror, thriller, and probably romance. While the latter genre can be considerable depending on a book, I never pick books of first two genres. I'm mentally a very sensitive person, and I happen to have a very good imagination on horror parts. So whenever I accidentally encounter a horror book or movie, it's a 100% guarantee I will have nightmares for a long time.
As a major book nerd, I know how overwhelming – or let's just call it IRRITATING – it can be when someone asks you what your favourite book is because there's never a black 'n white answer. So here's my question: What is your ideal ending for a book?
I'm into any ending that seems reasonable for this book. It doesn't always have to be a happy ending, but if it is, it should be really reasonable. If the book is a standalone, it should not leave me an option for an alternative ending. For the book series, the ending should never be abrupt, like, we're all in the middle of a huge war, and then suddenly – to be continued in the next book, God knows when it gets released.
What are some of your most cherished quotes from books?
I'll pick one from Smoke and Mirrors by Neil Gaiman, "Mirrors are wonderful things. They appear to tell the truth, to reflect life back out at us; but set a mirror correctly and it will lie so convincingly you'll believe that something has vanished into thin air, that a box filled with doves and flags and spiders is actually empty, that people hidden in the wings or the pit are floating ghosts upon the stage. Angle it right and a mirror becomes a magic casement; it can show you anything you can imagine and maybe a few things you can't."
What bookish franchise do you tend to fan and fawn over most?
Harry Potter. Nothing else needed to say.
If you're anything like me then you'll have a long list of bookish pet peeves. Can you name one of your biggest bookish pet peeves?
Hideous translations of books. Maybe, insta-love? Characters that are way too cliché. A pace of a storyline that is too slow or too fast for that specific genre.
I think one of the biggest problems us bookish folk face is our never ending TBR pile that gets longer and longer no matter how many books we tick off as 'read'. What book has been on your TBR the longest?
That would be Watch series by Sergey Lukyanenko (an urban fantasy book series about Others, a.k.a. mages, witches, vampires, etc., who keep the Moscow city in peace).
Fire Questions
Stressed Reader or Relaxed Reader?
Relaxed
Favourite Subject in school?
Physics?
Quiet night in or a night out on the town?
Quiet night definitely
Paperback or EBook?
Paperback
Pretty dress or jeans and T-shirt?
Jeans and T, but I have nothing against pretty dresses
What advice do you have for anyone who would like to get into your field of work? Translation requires you not only to know two languages but also to understand them, meaning you have to be acknowledged on the culture and language features to provide a reasonable and nice translation. And, of course, you have to passionate about it, otherwise, there won't be any progress on your skills development.
---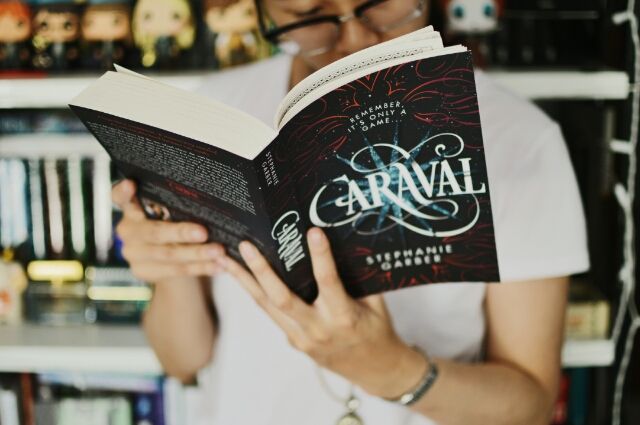 About the blog: A blog ranting about whatever book-related, featuring "Russian books and how to make followers read them".
Blog | Liliana N Bookish
Goodreads | Liliana Nguyen
Instagram | @liliananbookish 
Twitter | @liliananbookish
---
Thanks so much to Liliana for taking the time out of her busy schedule to answer these questions. I hope you'll go ahead and check out her blog and that you've made a new book blogging friend!
If you would like to have me feature your blog on A Cuppa with a Book Blogger, please drop me an email so we can talk more. Don't forget to come back next week Monday to meet another Book Blogger Friend!